Dahlia 'Twynings After Eight'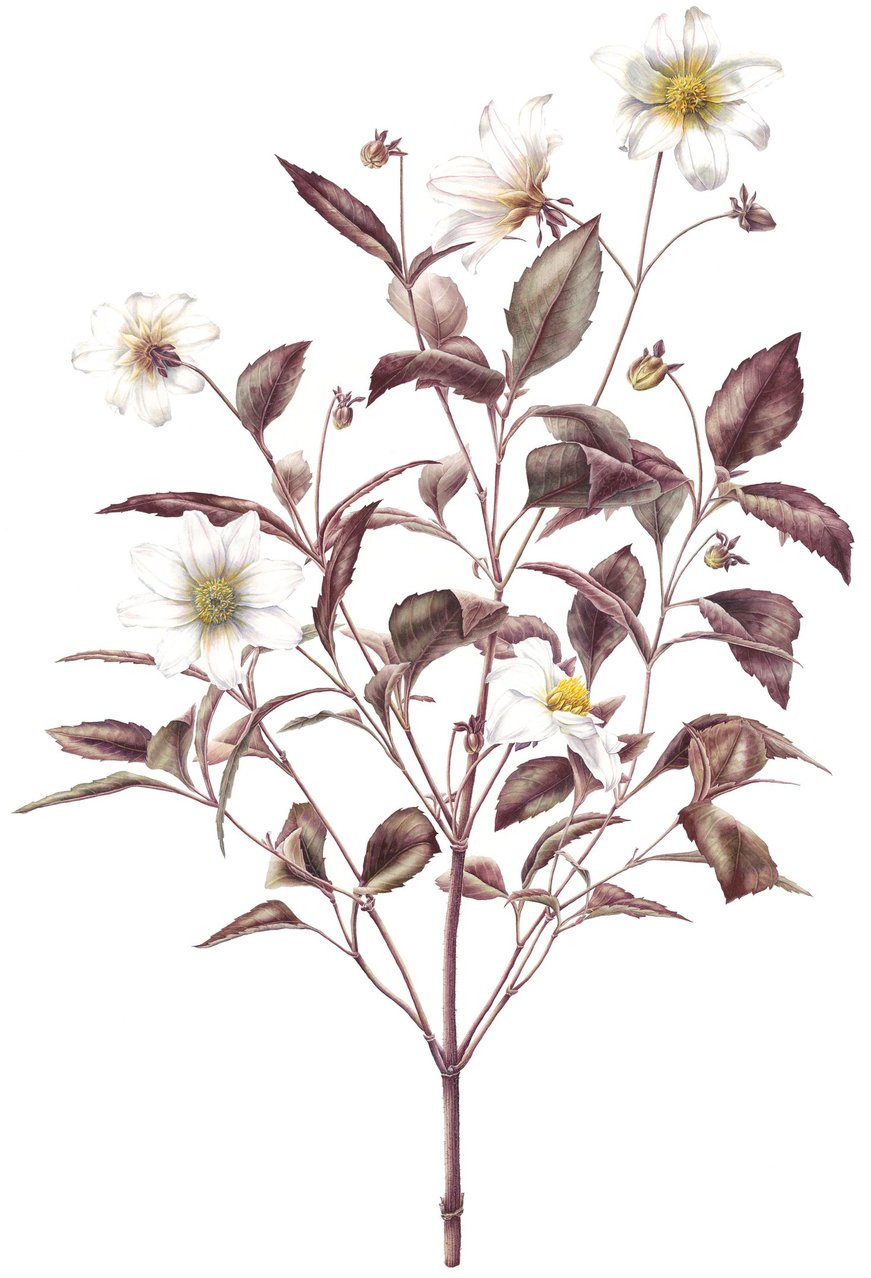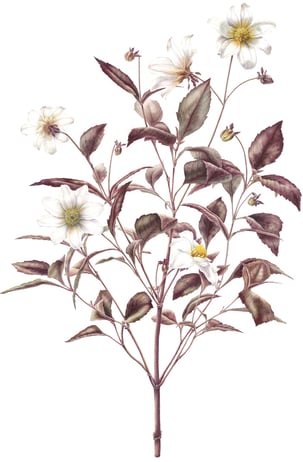 Dahlia 'Twynings After Eight'
2017
42 x 59.4cm
Watercolour on Fabriano Artistico extra white cotton rag 300 gsm
Acquired by the Royal Horticultural Society in 2017 for the Lindley Library collections of botanical art
Dahlia are tuberous rooted perennials with pinnately divided leaves and showy flowerheads. 'Twyning's After Eight' grows to 1m, with very dark blackish-brown foliage and single white flowers 8cm across, with broad rays florets and a deep yellow central disk, opening from late summer.
This striking Dahlia is most unusual, having a single form white flower, but dramatic near-black leaves. Most of the other Dahlia cultivars with these dark leaves also have deep-hued, dramatic flowers such as the red 'Bishop of Llandaff'.
The stark white flowers stand proudly against the dark bushy foliage, and it was the perfect garden plant, as well as painting specimen.
The leaves are fascinating. They are a mix of violet, red, brown and blue moving into black, but with a green base. The newer the leaves, and the closer to the base the greener and fresher they appear. Towards the top of the plant, they appear blackish-purple. A wonderful foil for the white flowers.
The flowers are of single form with light pink tracings over the more prominent veins, especially from behind. Like many others in the Asteraceae family, the flower heads are held together by a strong bract, with colours from light gold/green to deep violet.
The emerging buds are plump and rounded. Once the flower has finished, the re-sealed bract (looking deceptively bud-like) is elongated into a pointier shape (see closed 'bud' top right) and plainer/darker in colour.
The flowers, at full blush, have a rich yellow centre packed with disc florets. These are quite disciplined and bright at the early stages, but become increasingly more ragged as the flower ages (top right). The yellow/green blush which appears to leak onto the ray flowers (petals) becomes more yellow as they age.
This piece was painted on commission for a book on botanical painting techniques by Margaret Stevens. It was acquired by the RHS Lindley Library in 2017 and remains in their collections. It was exhibited in 2018 as part of an exhibition of botanical art in the RHS collections.