In the beautiful surrounds of Christina Strutt's boutique of quintessentially English clothes when it was in London, Heidi held a pop-up exhibition for 10 days in 2018 to coincide with the Chelsea Flower Show.
With some new originals painted on the theme of spring flowers, there was some lovely bright hanging space. Heidi did some sketching and preparation work as a demonstration.
I enjoyed the opportunity to chat with collectors and painters who dropped in, as well as Christina's customers who had popped in for some wardrobe enhancements.
A treat to work with such a generous personality and business.
Sydney Street Chelsea
May 2018


During the darkest, bleakest week of the year in the UK, Heidi took over the window of her local framer's 17th century shopfront in Corsham, Wiltshire. Corsham is a beautiful town, with 15th century origins, a historic house (Corsham Court) and peacocks which freely wander about the streets.
The exhibition was a chance to engage with new audiences wandering past the window, some of whom were not familiar with the discipline of botanical painting.
Heidi's work in progress painting of a quince branch proved popular with those wanting to understand the process better.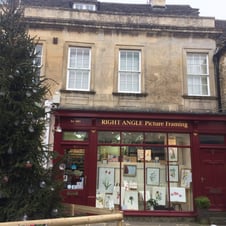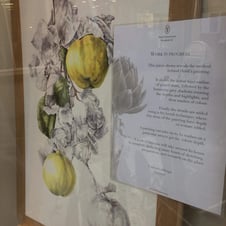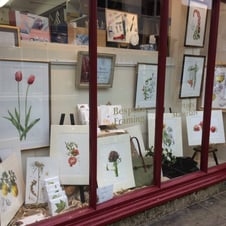 Bishop's Palace
Hereford Cathedral
November 2017, and online
Heidi painted a small, postcard-sized piece for the Postcards from Life exhibition to raise money for St Michael's Hospice, Hereford.
Heidi has always wanted to paint the delicious and beautiful fruit of the blackberry, with their variety of colours and development on one branch.
She has one in the garden, and it's such a treat to eat from the canes directly, though one always pays a price in thorns.
She painted a jewel-like small piece, designed to appeal to bidders.


Society of Botanical Artists
2017 Exhibition
Central Hall, Westminster
The 2017 London exhibition of the Society was held from 13 to 21 October 2017.
The exhibition was at Central Hall Westminster. It was terrific place to see a wide range of botanical art in a central London location.
Heidi exhibited five paintings, including Tulipa 'Menton', shown here.


Australian flora and the early plant collectors
RHS Hampton Court Palace Flower Show
3-9 July 2017
Heidi worked with The Australasian Plant Society and Plantbase to highlight Australian flora in an event for RHS Hampton Court Flower Show this year.
A presentation of the first Australian plant ever to flower in the UK, Lambertia formosa, was made to Dr Tim Upton, Director of Horticulture for the Royal Horticultural Society by Mrs Nicky Downer AM, wife of the then Australian High Commissioner, on 3 July.
Heidi exhibited watercolour and graphite botanical paintings of Australian plants (Callistemon rugulosus and Acacia glaucoptera) alongside some storyboards describing the work of the early plant collectors and painters who travelled to Australia.
To illustrate the presentation, Heidi worked with the Natural History Museum, London, to select a number of images of Australian natives collected by the botanists Joseph Banks and Daniel Solander on their 1768-71 voyage, and illustrated by Sydney Parkinson.
Heidi has also researched materials at the RHS Lindley Library in London for this project.
London Garden Museum
May - October 2017
The London Garden Museum Tradescant Exhibition was a botanical art exhibition to mark the re-opening of the Museum, focusing on the work of the John Tradescants, the great plant collectors, who are buried at the Museum.
Fifty paintings by modern botanical artists were on display, including a painting of pomegranates by Heidi. The exhibition was extended until October.
For more about the pomegranates painting, click here. (This painting has now been sold to a private collector.)


Potterton Books
London
June-July 2016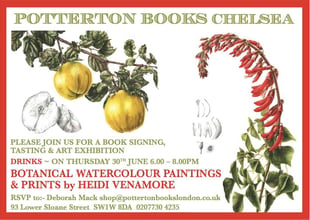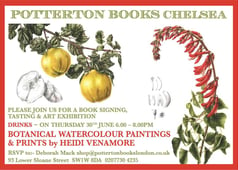 Alongside the launch of Henrietta Inman's book "Clean Cakes" at Potterton Books, Heidi's originals and prints were exhibited for a month, with the private view on 30 June.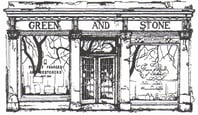 Heidi's exhibition at the art shop Green &Stone, 259 Kings Road, Chelsea, London, with Lale Guralp, Botanical Artist, was held from 20-30 May 2016, to coincide with the RHS Chelsea Flower Show.
Private views on 22 and 23 May were a delight. Rodney and Hester Baldwin were wonderful hosts, and their magical shop was the perfect backdrop for the exhibition and private views.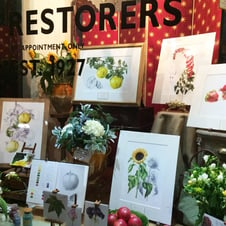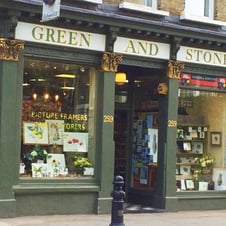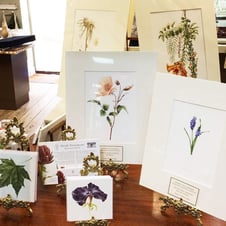 Annual Exhibition 2016
"Shape, Pattern, Structure"
Central Hall, Westminster
14-23 April 2016
Society of Botanical Artists
Heidi was awarded a Certificate of Botanical Merit for her Acanthus mollis at this exhibition.
The judge for 2016 was Lucy T. Smith, botanical illustrator at the Royal Botanic Garden at Kew.
These coveted certificates are awarded to a small number of paintings in the SBA Exhibition which depict the plant with botanical accuracy as well being painterly.