While working outside is part of being a botanical artist, most of the work is done indoors, where focus and concentration can be maximised, and the work kept clean. Heidi brings into the studio as much plant material as possible to help in the painting process. It lies about in buckets or vases, often looking less than glamorous.
There are a myriad of ways of keeping plant material fresh, including refrigeration between painting sessions, buckets of water for large pieces and hand-held vials of water for stems.
No matter how botanical artists try to manage their space, the studio usually plays host to plant material in various states of decay.
Until a painting is finished, and relationship between artist and plant ended for the time being, it is difficult to discard the source material.
The studio is a place of concentration and quiet focus. Many artists say it is their retreat from the world, a place where they don't notice time passing. This is certainly the case for Heidi.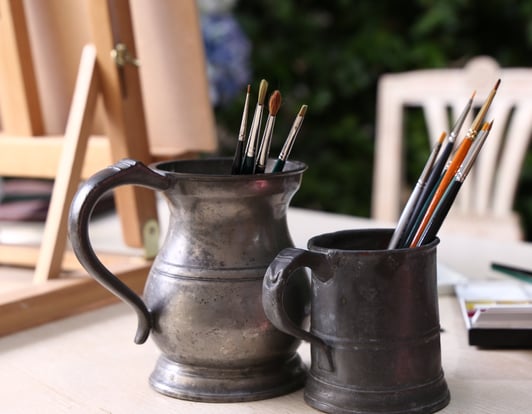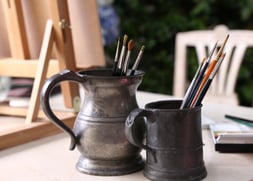 A sense of order and peace mostly prevails (unless there is a deadline approaching, or an invasion by young family members).
But the studio is also a place of business, where the work of art is done.
Studio arrangement
While many botanical painters work flat or with a slight gradient, Heidi finds working upright the most comfortable for long hours at the easel. There are table easels which will give an almost 90 degree elevation. It is deeply surprising to Heidi that 100% cotton rag watercolour paper will not allow water or paint to run beyond lines on a vertical surface (unless it is too generously applied).
She likes having the light fall onto the left of the workspace. Similar to traditional artistic practice, most of her paintings depict light in this way.
She keeps often-used materials easily to hand, so she can keep working without interruption to hunt for a different pencil, blotting paper, or a different sized brush, for example. Good lighting is important, especially working at night, although Heidi selects her colours in good daylight.