In 2018, Heidi received a Commission from Their Royal Highnesses El Hassan bin Talal and Princess Sarvath of Jordan (less than two months from the date the finished paintings were to arrive in London.)
Their Royal Highnesses had asked Heidi to paint a pair of paintings representing plants from their gardens.
The paintings were to be a gift to the then His Royal Highness The Prince of Wales for his 70th birthday on 14 November 2018.
We settled on a fig and a pomegranate, both at A4 size given the time frame, rather than something larger. Fig leaves are enormous and one day Heidi will do them justice in a painting to scale. But these bijou pieces have charm and make better pairs.
Happily Heidi already had many sketches and records of these plants and fruits from the Amman gardens of Their Royal Highnesses and was able to proceed apace with the preparations.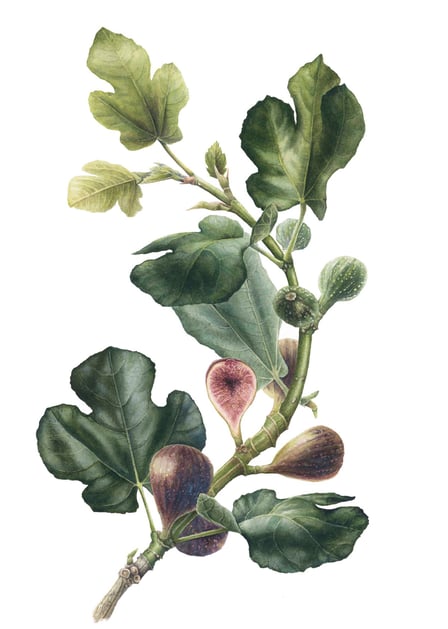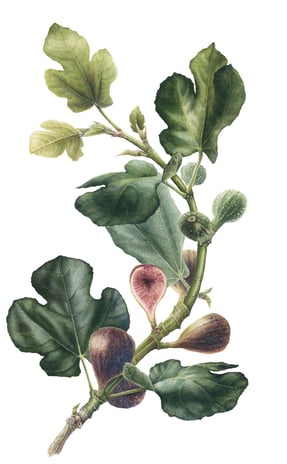 Heidi planned the sketches so that they presented as a matched pair, the fine ascending from the bottom of the paper and the pomegranate from the top. There was no time for repeating work, so she planned each piece carefully, placing leaves and fruit so that the pictures displayed younger and older leaves and fruit as well as one open fruit, to see the luscious seeds of each plant.
Colours needed to be balanced and matched in richness and depth.
The figs were a blend of pinks, blues and yellows, graduating from hard, young blue-green fruit to rich pink-brown tones, with bloom. It is very satisfying to depict a range of fruit on a branch, one of the advantages of botanical painting where this can be somewhat staged, while remaining authentic to biology.
On the pomegranate, Heidi wanted to place a young fruit at the end of the branch, then represent the clustering of fruits and leaves that is so typical of this plant.
It is so lush and extravagant, and she wanted to depict the explosion of leaves at all angles that one sees on the branches.
Having painted pomegranates before, she wanted to ensure the composition was quite different, so painting mature fruit with rich colours was the obvious way forward, with one fruit opened to show the seeds.
And then the mad scramble, once the paintings were finished, mount them, add certificates of authenticity, and wrap them in careful layers to travel halfway around the world.
This last part is always more time-consuming than imagined, leading to late nights and pleading with fine art scanners!
Happily they arrived in time and in good shape in London in early November via courier from Australia.
The careful layers of packing had done their job!
Their Royal Highnesses were very happy with their commission, and the mounted paintings were packed in bespoke boxes.
They were duly presented on the 14th, and graciously received by the then HRH The Prince of Wales.